Storbritanniens utbildningsminister heter Michael Gove. Han är minst sagt impopulär inom lärarkåren. En av hans första idéer var att använda Sverige som en modell för utbildning. Det svenska friskolesystemet talade han väl om 2008. "I have seen the future in Sweden, and it works", sa han då, och när han sedan blev minister 2010 såg han till att införa statsfinansierade friskolor. Det var ett av hans många misstag. Kritiken mot den reformglade utbildningsministern har bland annat gått ut på att han har en konservativ kunskapssyn och försöker vrida klockan tillbaka tillbaka till 1800-talet, att han inte visar någon respekt för lärarkåren, att han själv helt saknar lärarerfarenhet och således inte vet vad han talar om (han är journalist i grunden), att han försöker hetsa lärarna till att ständigt prestera bättre resultat, att han vill införa prestationsbaserade löner, att det är för mycket administration, och att väldigt många lärare hoppar av yrket i förtid till följd av oacceptabla arbetsvillkor. Fackförbunden har tydligt markerat sin kritik mot honom, och har förklarat att de saknar förtroende för honom,
I onsdags denna vecka ordnade fackförbundet NUT en endagarsstrejk för att protestera mot den förda skolpolitiken (se t ex #m26 på twitter). Genom centrala London ringlade ett demonstrationståg på cirka 10 000 lärare. Här är några bilder: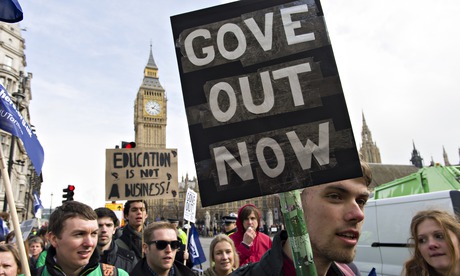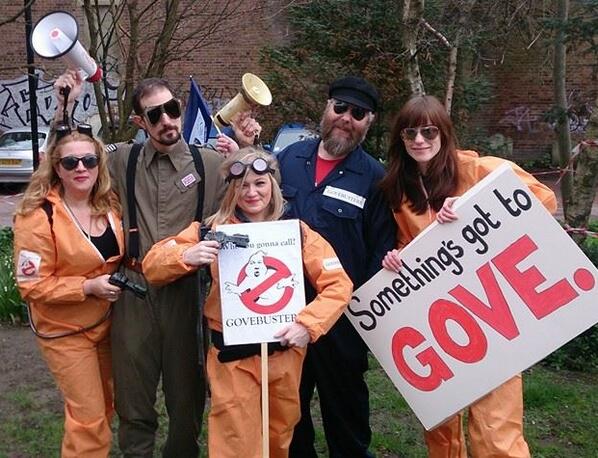 Frustrationen bland lärarna förefaller vara monumental. Måttet är rågat. Utbildningsministern ses som en destruktiv kraft vars reformer gör mer skada än nytta, samtidigt som han själv prisar sina insatser. Som en uppgiven bloggare förklarar i texten "why I strike":
If UK education was a window, then every single Education Secretary in history has complained that it is dirty. And they have all attempted to clean it, through one method or another. National Curriculum '89 and '99, National Strategies, Literacy and Numeracy Hours, Synthetic Phonics, Creative Curriculum. Gove is the first to smash the window, pay people to take away the shards without knowing if they even know how to clean and then has the audacity to tell us he's the greatest window cleaner in history.
Använd Facebook för att kommentera detta inlägg